Frequently Asked Questions
What kind of care can you provide?
We pride ourselves on providing the care needed to keep you and your loved ones safe and comfortable in your home, as you age, or as you recover from injury or surgery. 
Our services include: 
Meal Preparation and Grocery Shopping 

Bathing and Dressing  

Basic and Advanced Footcare 

Housekeeping

In-Home Companionship

In Hospital Companionship 

Respite Care

Nurse care 

Around The Clock Care

Dementia And Alzheimer's Care At Home

Wound Care

 

Serious Injury Care

Care after Surgery or Hospitalization

Medication Reminders

Falls Prevention

End-of-Life/Palliative Care
When can you start? How do we get care in the home as quickly as possible?
Our New Dawn Care Coordinator is available to speak with you Monday to Friday from 9:00am to 5:00pm. You can call 902-562-2444 at your convenience to begin the free assessment process. 
We follow a Five-Step Approach to Exceptional Care. This includes: 
Step one: a free in-home assessment to learn about your needs, or the needs of your loved one.
Step two: we then work directly with you or your loved one to build a personalized care-plan.
Step three: we match you or your loved one with a dedicated caregiver or care team. 
Step four: we provide you with the support you need to feel more confident in your home.
Step five: we do regular check-ins to ensure your satisfaction and to update your care plan as needed.
How quickly we can begin providing care depends on the type of care required. We can have caregivers in your home anywhere from a few days after your call, to a week or two after your call.
Do I need a physicians authorization for your services?
No. You don't need pre-authorization, pre-qualification, certification or even a prescription for Right at Home's services. You choose the services you want, when to start those services and how often those services are used.
If you request assistance with billing a private insurance policy for our services, we're happy to help with the entire benefits coordination process. This includes providing any documentation you need for reimbursement by an insurance carrier.
Will I have a choice of who comes to my home?
Yes, we will work with you, based on your needs, to select the most appropriate caregiver or team of caregivers for you. Not all of our caregivers have the same training and qualifications (for example, Personal Care Workers and Licensed Practical Nurses can't perform all of the same tasks) and so we endeavour to find someone who fits your needs in terms of their qualifications and disposition. 
Will my family member have the same caregiver every time?
Continuity of care (having the same caregiver or same team of caregivers) is important to New Dawn Homecare and to your care. We work hard to schedule the same caregiver or team of caregivers for your family member. We believe that building good quality relationships with those who share your home and lives is important to well-being. 
In exceptional circumstances (i.e. a caregiver is unwell, a caregiver is taking a leave of absence, a caregiver is called away to help with a client emergency) your family member may be assigned an alternate caregiver.
Do we have to sign a contract? What if we want to cancel? What if we want to change the kinds of service we receive?
You can change the number or type of service we provide your loved one whenever it's necessary. We understand the care situation can quickly change, so we're as flexible as possible with your loved one's care. Plus, you're never bound to a contract, so you can discontinue your relationship with New Dawn Homecare at your discretion.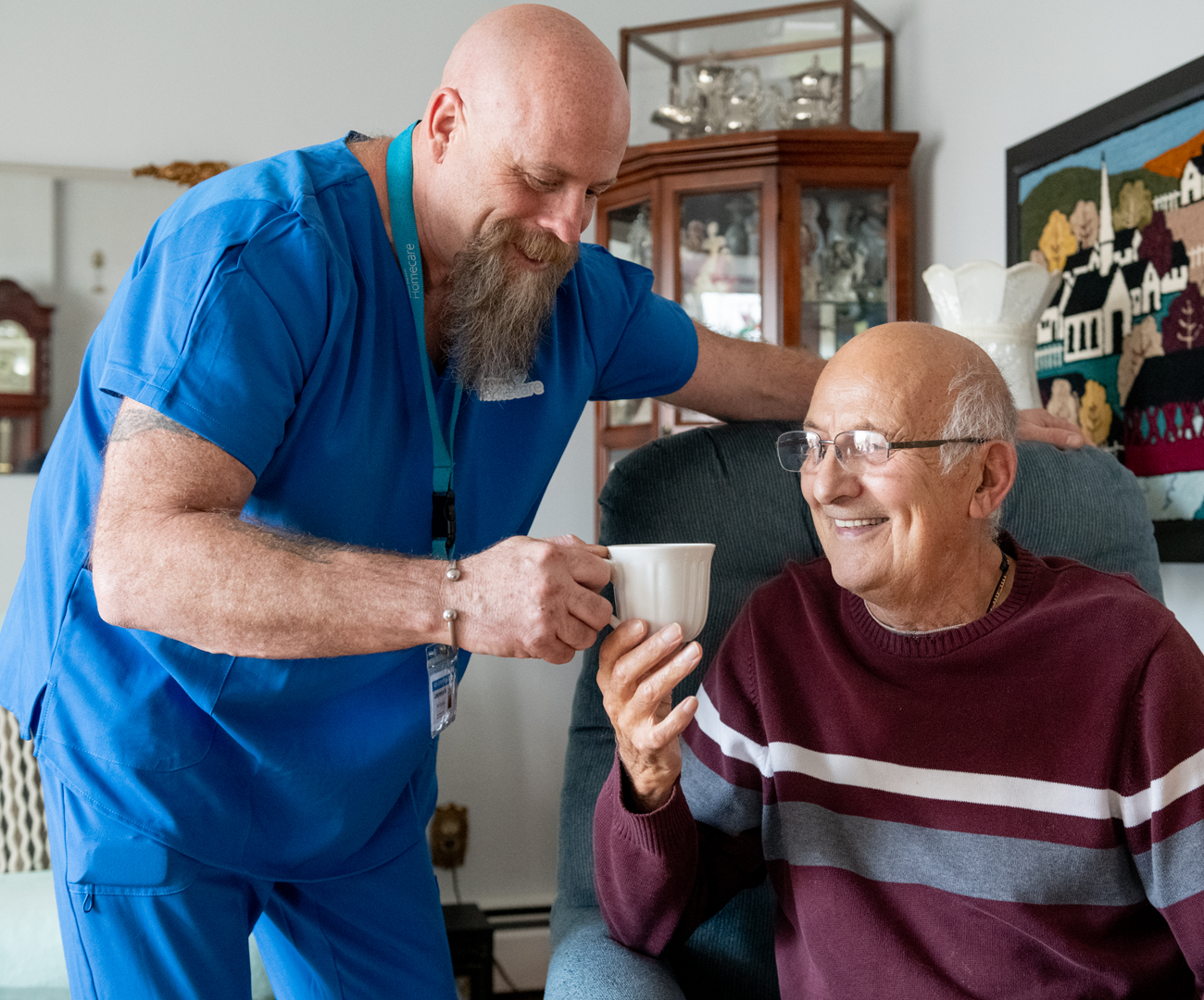 New Dawn Homecare
If you do not see an answer to your question, please don't hesitate to contact us!
Contact Us
More Frequently Asked Questions
How are your staff screened when they are hired?
Every caregiver we send to your home is New Dawn Homecare employee and has gone through our screening and orientation processes and has agreed to abide by all New Dawn Homecare policies and procedures. To help ensure the safety and well being of our clients, we perform a criminal record check and vulnerable sector check with each caregiver before they are hired and then cover each caregiver with general liability and workers' compensation insurance.
My dad has dementia, and it is getting harder to care for him. Do you have services for this?
Yes. Cognitive decline, dementia, and/or Alzheimer's diagnoses can be difficult for a loved one and their family. Providing care for someone living with this disease is not a simple task and can place a great deal of stress on the caregiver.
We can provide anywhere from three hours a day to care that is 24 hours a day and 7 days a week. Our caregivers who work with dementia and Alzheimer's clients are trained in Teepa Snow's Positive Approach to Care (PAC) [hyperlink: https://teepasnow.com/]. 
Some clients elect to have a caregiver come in to provide respite to a family caregiver, allowing them to leave the house or get some rest with enhanced peace of mind. Other clients elect to have New Dawn Homecare in for the overnight hours, especially if their loved one has a tendency to night-wander. 
We also know that care needs can and do change overtime and we can revise and enhance your care plan as new or different care needs arise. 
My mum has very limited mobility, can you still help?
Yes, our staff are trained in working with clients with limited mobility, including transfer assists and personal care (bathing and dressing) for those with limited and/'or declining mobility to ensure that they can continue to live lives that are full and healthy at home.
How can I verify a shift was completed?
New Dawn Homecare uses several tools to track our caregivers. First, we use simple timesheets filled out by each caregiver. Our caregivers are also required to complete charting notes for every shift. Then, we use a combination of Internet-based solutions to verify time, attendance, and charting notes.
This allows you to have a written record of services within the home where care is provided. We can provide this written verification to you at any time.
Also, our itemized invoices are only sent after services are complete. This lets you ask any questions about time or date of care.
How much are your services?
The cost of our services depends on the kind of care required. Our care rates range from $22.50/hour to $25.00/hour for personal care to $55.00/hour for care from a Licensed Practical Nurse. These hourly rates are plus tax. 
In some circumstances, these hourly rates are plus travel costs. 
We always provide a written care plan based on your specific needs that includes an outline of all costs prior to initiating care services. Rates will never be increased without at least sixty days notice.
We have a three-hour minimum for all of our care services. This means that, unlike publicly funded homecare, we aren't stopping in for 15 minutes in the morning or 15 minutes at night. During our three hour visits we can deliver a number of services: bathing, dressing, meals, social connection, medication reminders, and/or grocery shopping and transportation to appointments.
There are a few factors that go into our setting our care rates: 
We are fully insured, as are all of our caregivers. This means that if ever there is an accident or an incident in your home, and a caregiver is injured, you are not liable for this. As a registered business who pays into Workers Compensation, our employees are looked after by our insurance and Workers Compensation in the case of a workplace injury. 
We carefully screen, train, and equip our caregivers to provide exceptional quality of care at all times and in all circumstances. Our frontline caregivers are supported 24/7 by a Nurse Care Coordinator. Our training is ongoing (not just at the start of employment) so that we can ensure that we are always using best practices in all of our work.
Can you visit my parents for an assessment if I live in another province?
Yes. We can schedule a visit to your loved one's home, hospital room, or long-term care facility to conduct a care plan assessment. If you are their authorized representative, this entire process can be done in consultation with you. Our care coordinator will follow-up with you after the visit to discuss what was learned, and you will have the final say in the kinds and frequency of care they receive. 
Do you provide overnight care?
Yes, we can provide care that ranges anywhere from three hours once every few months to twenty-four hours a day, seven days a week. Depending on care needs, we have CCAs and LPNs who provide overnight care, to ensure that medications are administered as needed, your loved ones don't wander or injure themselves, or simply to give you the added piece of mind that if help is needed in the middle of the night, it is already there. 
Can New Dawn Homecare help with medications?
Yes, our Personal Care Assistants can provide medication reminders, and our Licensed Practical Nurses can help with the administration of medication.
How long have you been in business?
New Dawn Homecare was founded in Sydney, Nova Scotia in 1988 and has operated continuously since this time. Over the last 34 years we have grown in size and expanded to provide a variety of services based on the needs of our clients. 
Do I pay the caregiver directly? What are your payment options?
No. You (or an authorized representative) are only invoiced after the completion of services and at the end of each month. You never have to pay caregivers directly. And you'll never be asked to pay an additional fee to any employee. 
You can pay your invoice via cheque, credit card, e-transfer, or pre-authorized debit.
How is my privacy protected?
This Privacy Policy applies to all personal information within New Dawn Homecare's possession and control. Protecting the privacy and confidentiality of personal information is fundamental to New Dawn Homecare's daily operations. We collect, use, protect, disclose (when requested by client or required by law), and destroy private and confidential information in a way that conforms to all applicable federal and provincial laws and regulations, and in an appropriate, responsible, and ethical manner.
All New Dawn Homecare staff, from the Director of New Dawn Healthcare to our frontline housekeeping staff, abide by our procedures and practices when handling personal information.
New Dawn Homecare's Privacy Management Program is governed by the information handling practices of the Personal Information Protection and Electronic Documents Act (PIPEDA).
Under no circumstances will New Dawn Homecare sell, distribute, or otherwise disclose personal information or contact lists to third parties.
For more information on how we collect, store, use, and destroy private and confidential information, please visit our Clients Rights page (hyperlink).
What kind of insurance do you carry?
Need information from Janine.
"I feel very lucky to have her"
"Betty has been with me for 8 years and I feel very lucky to have her"
"We are very happy with the services!"
"We are very happy with the services and everyone who has gone there has been great."